FAQ ABOUT TEPRA LITE TAPES
Posted by KING JIM ( VIET NAM) CO., LTD at 20/10/2016
New product of King Jim (Vietnam)-The Label maker machine – Tepra Lite with compact and convenient design is coming to Vietnamese market. Especially this is the first label printer to use English interface enables users to use the machine more easily. Besides, with the aim to reach individual user, tapes used with Tepra Lite Machine are made with different colors and backgrounds to meet more customers' needs. To use this lovely machine, you might come up with some questions. So, let's take a look at the usual questions and the answers below, then, you can know better about this Tepra Lite machine, Tepra Tapes and Coharu masking tapes.
FAQ ABOUT TEPRA LITE TAPES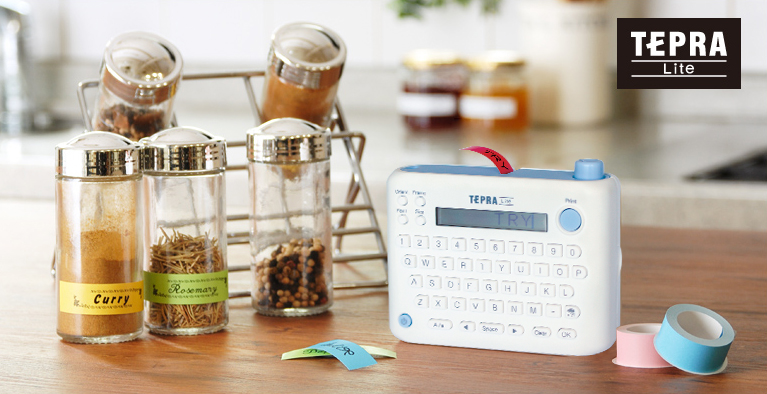 Q. Positioning of TEPRA Lite English model?
A. The TEPRA series has a history of 26 years in Japan, and is well accepted, while its share overseas is low.
 LR5E: EPRA Lite English model is ideal for users who are using label printers for the first time.
It is compact, light and easy to use, so it is perfect for simple labeling in the home or office.
Q. Why is the word "Lite" used?
A. Because the machine is light and easy to use, and because the tape is light.
Q. What is the difference between TEPRA Lite tapes and TEPRA PRO tapes?
A. Please refer to the table below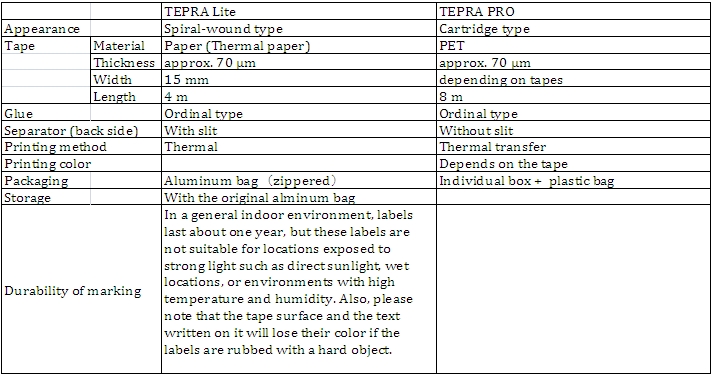 Q. Can TEPRA PRO tape be used?
A. No
Q. Can "coharu" masking tape be used?
A. Yes
Q. What are the main differences with TEPRA PRO?
A. Functions, tape specification, etc. TEPRA Lite has an appealing design with friendly built-in symbols and icons.
Q. Are tape standard marks printed?
A. No. Please check logo marks or brand names on the package or tape.
Q. Are there any hidden functions ?
A. After pushing the frame button, by inputting numbers, the following frames can be displayed.
「97」…

「98」… 

「99」…

Q. Recommended end uses of TEPRA Lite?
A. Making a good use of its material, such as thermal paper:
Naming your belongings
For yourself or for your children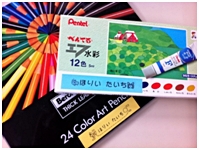 ■ For marks and symbols in notebooks and personal organizers
Since tape is made from paper, using it with notepaper is fine. There are sufficient symbols and icons for customization.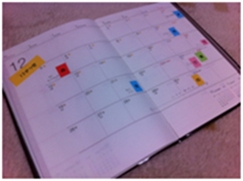 ■ For daily use in the kitchen
Since it's compact, it does not take up much space. You can use labels on wrappings or Ziploc bags. Items in your freezer can be managed effectively with labeling.
※ Adhesive power will weaken in the freezer.
※ Do not apply directly to food.
※ In microwave ovens, font colors will change or darken.
■ For collectibles
Paper material can prevent background reflections from fluorescent light
■ For use on the road
Since it's compact, you can easily carry it. Use it anywhere, for example, at client offices or at exhibition halls.
■ For keeping things tidy and in order
Since tape prices are very reasonable, you can keep things tidy and in order by using different color tapes.
■ For your own use in the office
Since it's thin, you can keep it in the smaller, upper drawer of a desk.
■ For eco-oriented offices
Since the tape is cartridge-free, you can reduce waste. The tape is also made from paper, so burning is easier.
Q. Strength of thermal paper?
A. No problems if it is unopened. If opened and not used for a long time, tape should be returned to the original bag (with zipper).
Q. Like "coharu" masking tape, does the color of printed letters fade or change over time?
A. There are no specific problems with everyday use. Here are simulation test results: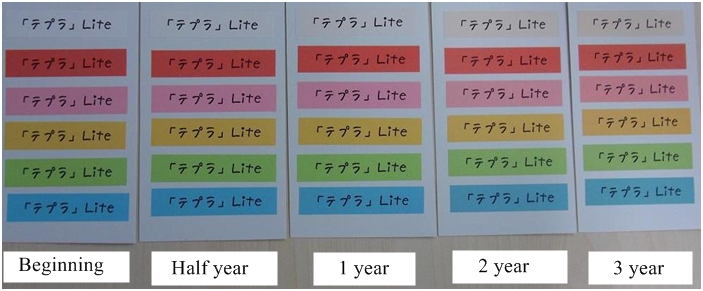 (Under fluorescent light: 500 lx ×10 hours/day, 23℃, 50%RH with accelerated test simulation results)
Q. Are there any cautions for extending the durability of printing?
A. Generally, thermal paper is not strong against highlighter, permanent
marker, hand cream, hairdressing and materials that contain plasticizers, like vermilion inkpad, or vinyl chloride.
Q. Generally expected standard room temperature and humidity ?
A. Below 25℃, 70%RH. In general, at higher temperatures and humidity, printing colors will become discolored.
Q. Can it be used for scrapbooks?
A. Yes. Acid-free glue is used.
(Reference: Data measured at KING JIM)
Glue: pH6.71
Tape surface: pH8.42
Sticker release paper: pH5.81
※ General definition of acid-free : pH6.3 - 7.8
※ Although the tape surface pH is not within this acid-free definition, it does not affect glue materials, and there is no problem with everyday use.
Q. Can TEPRA Lite tape be reused like "coharu" masking tape?
A. Since the glue of TEPRA Lite tape is strong, it is not easy to peel off.

(Examples: TEPRA tape peeled off after one week)
Q. Can you write on tape ?
A. Yes. Since it's paper, you can write using a mechanical pencil, ball-point pen, etc. But avoid using highlighter or permanent
marker, as they will affect tape quality.
Q. Can the tape by torn by hand?
A. Yes.
Q. Can TEPRA Lite tape be applied anywhere?
A. You should avoid using on curved or lumpy surfaces as the tape may peel off.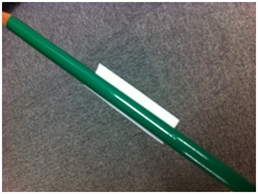 ■ Placed in strong direct sunlight
Since tape is made of thermal paper, tape color may discolored or printed letters may fade.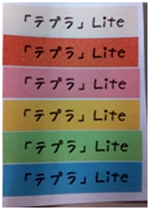 (Examples: TEPRA tape exposed to direct sunlight for about two months, 2012.2.15 - 4.20)
■ Under high temperatures
Tape quality is maintained even under 65℃ for 24 hours, but the tape might be damaged if it is exposed for a long time under more than 65℃.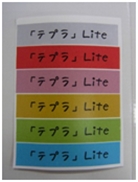 (Examples: TEPRA Lite tape kept for 24 hours under a dry environment of 80℃)
■ If it is wet
If it is wet with water, the tape will wrinkle.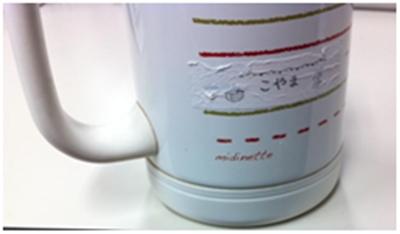 ■ If used for cable
The tape will float.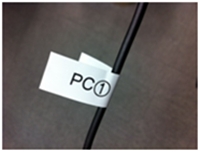 Q. Are there thick and thin tapes?
A. Only tape of 15 mm width is available.
Q. Can labels be printed in multiline?
A. No. Only one line is possible.
Q. Is input data lost when the power is cut off?
A. Yes. But if, soon after turning the power on, you press either
and then press
the previous input data comes back.
Q. Can it be connected with a PC?
A. No. Since TEPRA Lite is targeting handy use, independent specification is prioritized.
Q. Can an AC Adapter be used?
A. No. AAA alkaline batteries only (sold separately).
Q. Battery life?
A. Depending on conditions. Generally, you can use it for two tapes.
Q. Can rechargeable batteries be used?
A. This is not recommended, because battery power is a little bit different compared with general alkaline batteries.
Thank you
You are watching:
FAQ ABOUT TEPRA LITE TAPES